Feel free get in touch with us via email, twitter or send us a message.
MediMood: Study particpants wanted!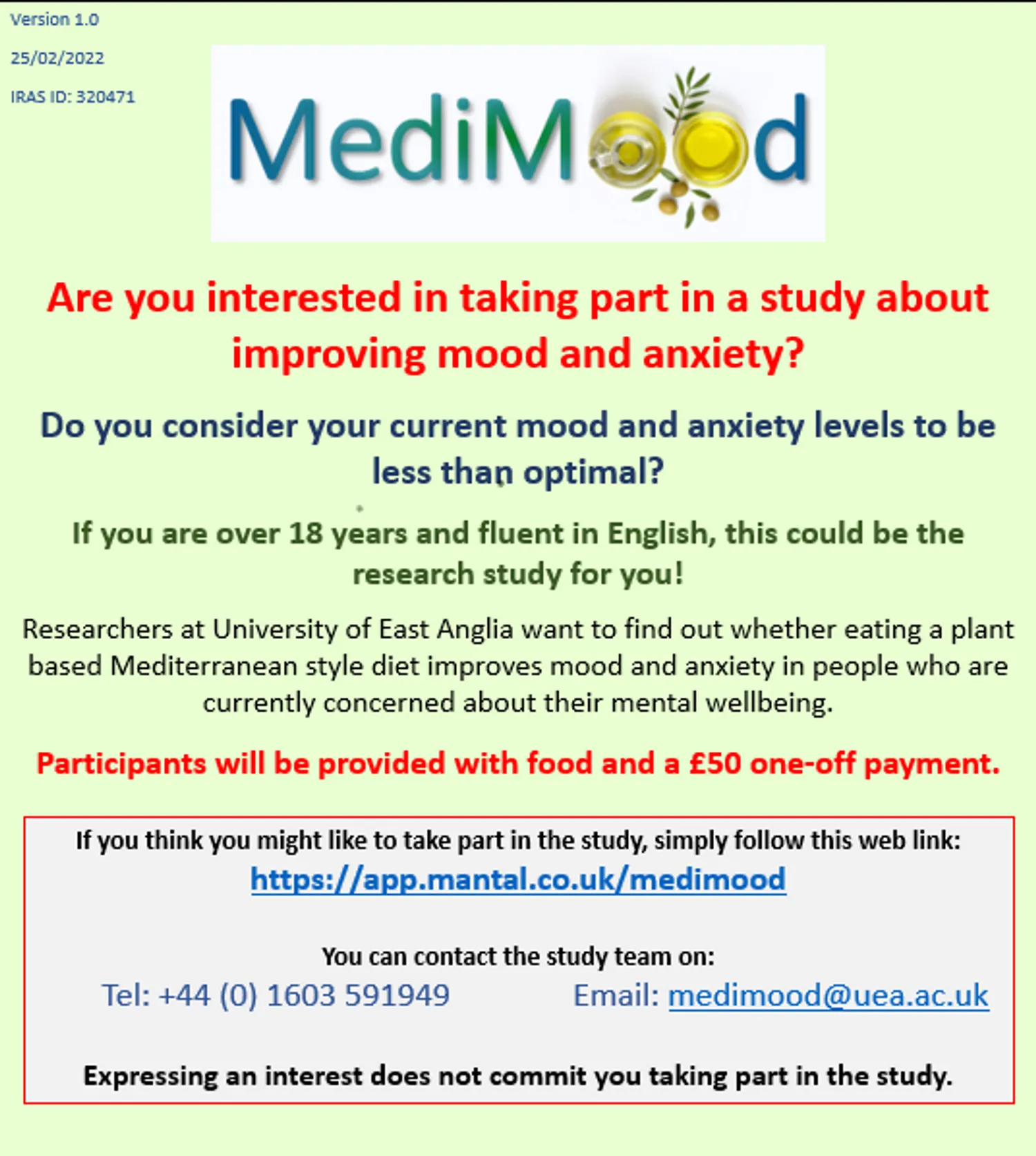 MediMood Clinical Trial
Do you consider your current mood and anxiety levels to be less than optimal?
PhD student Latife Esgunoglu and her supervisor, Professor Anne-MArie Minihane (NIHA Director), would like to invite you to take part in a research study (MediMood) conducted by the University of East Anglia (UEA). The purpose of the study is to find out whether eating a plant based Mediterranean style diet improves mood and anxiety in people who are currently concerned about their mental wellbeing.
The MediMood study is designed to explore the short term (5 days) effect of eating a Mediterranean-style diet and a Western style diet on mental and cognitive health in adults. Both diets have been designed by an expert nutrition team using dietary profiles based on national intakes in the UK population.
The study aims to recruit 25 volunteers aged 18 years or over, fluent in English, who have a mild to moderate level anxiety or depression which will be determined through a questionnaire.
The study will take place in the Norfolk and Norwich University Hospitals (NNUH) Clinical
Research Facility (CRF) in the Quadram Institute, based on the Norwich Research Park, and involves:
a two 5-day dietary intervention study periods blood, urine and faecal samples collected on day one and six of each study periods.
computerised psychological and brain function-related tests administered on day one, two and six of each study period.
an MRI scan taken on day one of each study period.
Participants will be provided with food and a £50 one-off payment.
If you are interested in taking part, the researchers will arrange an online video conference using Zoom (or a phone call, depending on your choice) where a member of the study team will go through the details of the study including dietary instructions with you and answer your questions.
Simply follow this web link: https://app.mantal.co.uk/medimood/login for more information and sign up details.
Alternatively, you can contact the study team on +44 (0) 1603 591949.
Or email: medimood@uea.ac.uk
Expressing an interest does not commit you to taking part in the study.